THE
BRANDYWINE
HIDEAWAY
Hidden on the Brandywine is the log home
and studio of world class sculptor,
A. J. (Buddy) Obara
BY HUGH BEST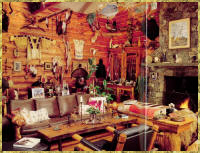 Above, the guest lodge with its handmade ranch furniture and ranch
house decor which includes such items as a peace pipe, totem pole and an elk antler light fixture. Below right, Buddy Obara in his Unionville studio, modeling a panther in clay.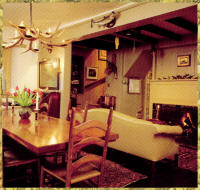 Originally a one-room schoolhouse, the den, above, has a walnut dining table made by Obara and surrounded by Pennsylvania ladder-back straight chairs. The fireplace mantel is topped with a parade of Obara's first small animal bronzes. The paneling is original to the room. Right, in the living room/dining room of the Obara residence are twin sofas covered with brilliant flame stitch pattern fabric. Wall cabinets display sea life bronzes sculpted by Obara. Left, "American Bison" bucking on one hoof which is considered one of A.J. Obara s most important bronze sculptures.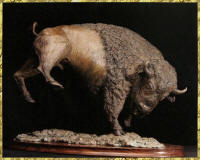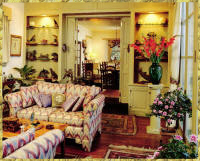 Obara s private museum and studio, left, reflects the glory of the Old West. Covering the walls are Indian brain tanned doeskin garments, a Sioux turkey feather headdress, animal trophies and beadwork. A tribal loft ladder is used as a rack for a sports hat collection. Right, the studio's "naturalist's kitchen" is trimmed with hand peeled logs. The cabinet handles are made by Obara and the decoy head inserts are hand carved by Harry Waite. Some of the doors have miniature paintings of wildlife by E. M. Saniga. The telescope on the table is pointed toward the picturesque Brandywine Creek.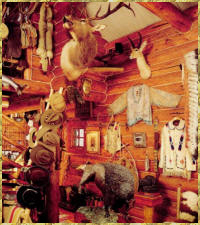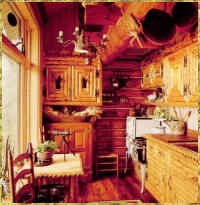 Obara's "Jungle Gym" was created to enrich the lives of terminally ill children at Neverland Valley Ranch in California. The project's patron was superstar, Michael Jackson.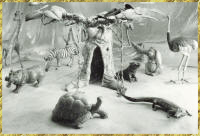 The rancher's desk, Obara had made for his loft office. The chair is upholstered with tan cowhide. The bent twig side chair has a rawhide seat painted with an Indian fetish design. On the wall rare fur cowboy gloves are displayed like important soft sculpture. The painting is by Michael Coleman.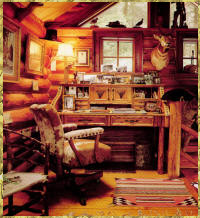 Left, the studio guest bedroom with Obara designed four poster bed. The cabin naturalistic style is enhanced by zebra skin and Navajo rugs, Hudson Bay blankets and a twig chair with seat made of natural hide. Right, the loft in the studio provides guests with a lodge pole pine trundle bed.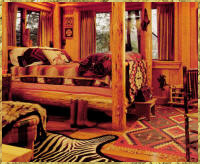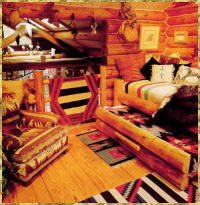 Left, is a sculpture of a bald eagle in bronze which Obara also sculpted for President Reagan's Oval Office. A

head of this artwork

was created to be carried aboard the space shuttle, Discovery in 1985. Right, the rustic bathroom in studio guest quarters.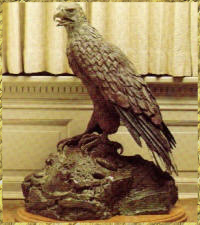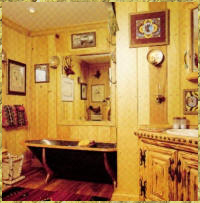 One of Chester County's best kept secrets revolves around sportsman/sculptor A. J. Obara Jr. Ultra private locally, Obara is "Buddy" to princes, presidents and potentates of the world's international sporting set.
We heard that his most recent sculptural project was so hush-hush that it had been kept under wraps while in progress for over the past three years.
So, when we were invited to take a preview peek before Life magazine came out to photograph it, we headed eagerly to his Unionville studio on the Brandywine.
Not only were we intrigued by Buddy Obara's newest work, but equally so in discovering his amazing abode and atelier. The house is dated 1796 on the National Register of Historic Houses. It once belonged to Henry duPont, of Winterthur renown, and also King Ranch. It had only three owners, Mr. duPont, West Chester painter Horace Paul and Obara.
When Buddy and his wife, Jane, bought the house, it was in total disrepair. They carefully restored it one room at a time, over twenty years. It's now a charming little cottage reflecting Chester County at its best.
Built of native stone, it had originally been a single room schoolhouse. A rope and wood bridge across the Brandywine led to it, so children had to cross the bridge to go to school. While restoring it, the Obaras dug up a cannon ball and coins dating to the 1700s. When they pulled the baseboards off, they found arithmetic papers dated 1890. The Obara's dining room was converted from the one-room schoolhouse, with its original wainscoting.
On the living room mantel are ten different game fish created in bisque porcelain by Obara— the only complete set in existence. On a table nearby stands a life size American bald eagle sculpted for President Reagan. It stood in the oval office and now resides in the Reagan Library. On shelves are displayed Obara pieces commissioned by Jacques Cousteau.
Guests are ensconced luxuriously in the adjoining studio. Made of smooth peeled logs from Montana, it recalls an Adirondack hunting lodge or Wyoming cattle baron's hideaway.
Standing as close by the creek as a banked canoe, it serves as a place where clients can live with the bronze, to see what it's like living with the sculpture rather than just seeing it in a gallery. This guest bunkhouse, museum and studio is rustic, yet suavely sophisticated—the kind of retreat Orvis or Ralph Lauren would die for. All about are remarkable Native American, African and Western artifacts, including rugs, blankets carvings, costumes and talismans. Many brought back from his hunting and fishing expeditions.
A "fishing corner" displays rare fishing reels, poles, creels, flies, boat flags and framed photos of him fishing with cronies General Norman Schwarzkopf and Peter Pulitzer, with action shots of giant tarpon and Atlantic Sailfish caught on the fly.
On casual display too, are exquisite editions of his works for such patrons as Prince Philip, Prince Charles, Prince Rainier, King Fahd, Jacques Cousteau, the duPonts, the Rothchilds and Presidents Reagan and Bush. Paul Newman, Sigourney Weaver and Jimmy Stewart have Obaras. Astronauts rocketing shuttle STS 51-I into space carried along an Obara bronze.
Many of Obara's wildlife subjects are depicted in their startlingly realistic natural environment. A peregrine falcon for instance, is shown grasping a green wing teal on an actual rugged rock. Obara's polar bear perches atop an ice block made of Steuben crystal. A French angel fish floats over a branch of real coral. So lifelike are his sea creatures, that many of his dolphins, whales, sharks, turtles, sail fish, bass, salmon and trout are in collections of the International Game Fish Foundation and Cousteau Society. Obara also donates generously to wildlife causes.
Obara's guest bathroom is a special delight.
Spotlighted as a work of art stands a wood rimmed copper bathtub, circa 1890, opposite a built-in sauna. Walls here are paneled in cedar planking, exuding a soft, virgin—forest fresh, aroma. Towels have Hudson Bay blanket looks. Signed etchings of wildlife complete this luxurious bath's sporting look.
Even the kitchen reflects this sportsman artist's obsession with nature. Kitchen cabinets have carved duck decoys as handles. Some doors are inset with miniature paintings by H. J. White and E. M. Saniga.
This, for sure, is no Lincoln log cabin. Guest's beds are plump with designer pillows and fur counter- panes. One, a polished log pole trundle bed, sports a buffalo fur throw and elk hide pillows beaded with Indian motifs.
All this plus a view over the Brandywine Creek and fields beyond, like an Andrew Wyeth painting come to life. Andrew Wyeth, whose paintings inspired Obara as a youth, lives 'just down the stream." Obara, when a young boy, wanted to follow Wyeth's path and become a painter. However, being an ardent naturalist, he became fascinated with sculpture as trophies of the hunt.
He began sculpting in 1972 after attending art classes as a child at Delaware Art Museum. Appreciating Frederick Remington's genius for capturing a moment, and Charles Russell's direct approach interpreting cowboys in action with nature, Obara developed his own style, remaining true to an animal's appearance or habits.
Now his genius has attracted a veritable who's who of today's leaders. Obara and his wife Jane shoot stag with Rothchilds in Austria; pal with Pulitzers in Palm Beach and hobnob with the nabobs of Hollywood. His works are in the collections of such prestigious museums as the Delaware Museum of Natural History, African Wildlife Federation, The Peregrine Fund in Boise, Idaho and the Oceanographic Museum of Monaco, among others.
Several years ago, Obara was chosen to create "the ultimate statue to enrich lives of terminally ill children" for Neverland Valley Ranch in California. Patron: superstar Michael Jackson. This was that "secret project" we had heard whispered about.
What we saw "knocked our socks off!" Working for three years, he wrought not just one statue but an entire jungle in bronze—an eleven foot tall baobab tree with a cavity in which kids can hide and seek. Within its 25 foot span are a frog, lizard, toucan and creepy crawlies. A spider monkey hanging from a limb has a tail that forms an entrancing swing. A friendly life size python winds through the baobab's branches. Big as life, playing under the tree are a Galapagos turtle, pigmy hippo, zebra, giraffe, wart hog, orangutan, crocodile and an ostrich which is just the right size for boys and girls to climb on. Now, lighted by Disneyland specialists, Obara's Jungle Gym is hailed as "the greatest children's sculpture since Central Park's Alice in Wonderland by José de Creeft." Chester County continues to be full of surprises like Obara "in our own backyard." If you have ever wondered what goes on in that log cabin on Brandywine Creek near Unionville, now you know.
Hugh Best is an internationally known author, world traveler, and contributor to many quality magazines.