Lion Hunt - The "Proper" way
Botswana... Wow what a country, abundant game, beauty and danger everywhere. What more could a fella ask for...
I had been on safari in Botswana twice before, for plains game, elephant and buffalo, both very successful hunts. And once to Tanzania.
This time I was hunting with Blackbeard & Hepburn Safaris for elephant, lion, leopard, and buffalo on a 14 day safari - optimistic, but hopefully lucky. After flying in from Arusha, the long time starting point, I was met in the "Selinda" by PH Ronnie Blackbeard, whom I immediately took a liking to and wanted to adopt. Later that evening, Peter Hepburn, who was to be my PH, arrived. The evening was spent telling tales and sampling some of the fine South African wines available in camp.
My main objective was lion, and I was soon to learn that it was not like Tanzania, where you hunted them over bait. Here, Peter informed me, you tracked them until you caught up to them. My pulse quickened.
Our typical day started at 5.30 with coffee and porridge. While standing around the fire, we would listen for lions roaring in the distance. A bearing would be taken on the direction and the distance estimated. Upon first light, we would be in the Landcruiser with trackers and game scout, driving in the general direction of the lions. When we figured we were close, we would stop for a cup of coffee and listen again. Eventually, the lions would oblige and, then the real hunting began. Armed with my 500/465 double rifle, we would walk in on the roaring lions, stopping and listening periodically, until we either cut a track or turned the corner and there they were. These sightings generally occurred between 15 and 50 yards as the mopane bush was thick...exciting stuff.
This scenario went on every morning for the first week, with either the lions being too young or maneless or simply running away before we could get a good look or shot. When not hunting lion, we spent long hours stalking buffalo, tracking elephant or checking leopard baits. On the fourth day, I was fortunate enough to get my leopard without having to sit in a blind, for which I was very happy.
Peter (the younger) Brandon, the concession manager, one evening prepared fillet of leopard, basted with garlic butter, grilled over the open fire and finished with flambé of cognac. I must say that I have never tasted anything better anywhere. If this fella's PH career does not pan out, he could definitely get a job at a top restaurant!
The second week started and we had filled many tags, but were still concentrating on the lion.
Lions, lions everywhere, but we could not find the right one. Peter decided to do a fly camp as time was short and we spent a lot of time traveling. Our fly camp was comfortable, thanks to Peter (the younger) and Leon, a junior PH with Blackbeard & Hepburn Safaris. In the evening Peter (the Older) delighted me with his culinary skills with perfectly grilled kudu fillet, pasta and peas. Boy, was I lucky...great camp grub and abundant game!
Two days left and still no lion. That night we heard a huge lion roar and we were on his track at first light. Around and around we went, occasionally getting a glimpse of him running away. We stayed on him all day, but finally had to get back to the car as dusk was approaching. Tired, dusty and somewhat disappointed, I was thinking to myself what a "proper" lion this had been...but was not to be...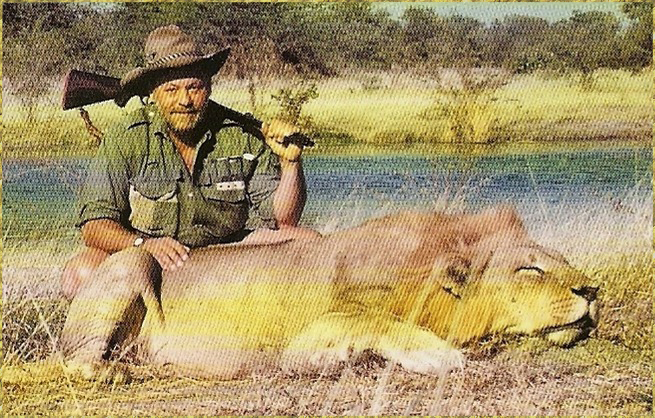 Trudging along, the trackers suddenly pointed... there he was 30 yards ahead, broadside, standing and looking at us. I needed no instructions about what to do. I shouldered my 500/465 and fired at his shoulder. All I remember was the lion leaping about 5 feet in the air and then streaking into the mopane. I felt I had made a good shot. However, it was almost dark, we had no flashlights, the truck was miles away and we had a wounded lion. Peter decided to send the tracker back for the car. Meanwhile, we checked where the lion had run off and found a good blood trail. We knew he was hit well, but it was too damn thick to follow in the dark.
When the truck returned, we set up the spotlights, and while one tracker drove, Peter, myself and Cisco, the head tracker, walked ahead of the vehicle on the blood trail. The trail led into thicker bush... my heart was pounding... but this-was what it was all about... wasn't it ?...the spotlight went out...damn... I recommended we come back in the morning... Peter informed me the hyenas would eat my lion...spotlight repaired... we continued...
We had covered about 40 yards when we came into a low grass clearing and Cisco pointed. My lion was lying on his side, dead. I was exhilarated...relieved... a happy camper. Peter and the trackers all breathed a big sigh of relief. We estimated his weight at 450 pounds and about 9' 6" long. A big lion, with a good mane. It turned out my shot had been perfect, in one shoulder and out the other. He had run those 50 yards on pure adrenalin.
Back at camp, there was great jubilation with many rolls of film being used, everyone in camp posing with the King of Beasts.
I had got my lion and what a story...
All I can say is thank you to Peter Hepburn for teaching me about nerves of steel and how to hunt lion - the "proper" way. A great safari, a great country, great camp and great people.
Look out Ronnie and Peter, I will be back, for I have never felt so alive.
Thank you
Buddy Obara

A.J.OBARA Jr. is a wildlife sculptor in bronze, living in Unionville, Pa, U.S.A. Formerly a Board member of the African Wildlife Foundation, conservationist, outdoorsman and adventurer, (Buddy) A.J. travels the remote corners of the world looking for experiences and subject matter for his sculptures.